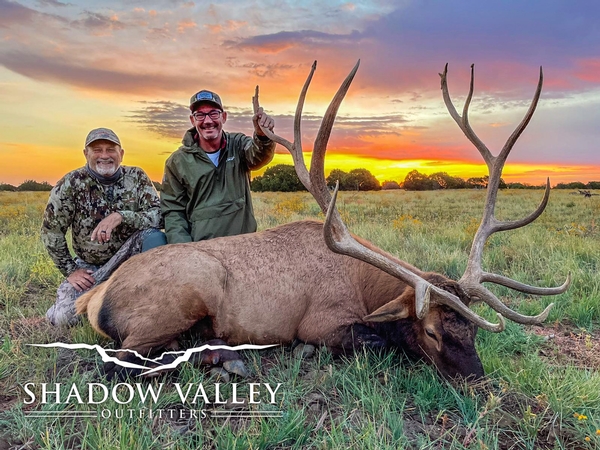 With the 2023 Elk and application period, and draw upcoming we are already looking forward to the 2023 season. We will be in several units across the state for archery, early rifle, muzzleloader and late rifle hunts. We have some truly special hunts up coming with hunters that might be on their first hunt or possibly looking at their last western hunting experience. Either way Shadow Valley Outfitters is preparing for opening day and getting ready to make memories with our hunters.
Our approach to guiding and outfitting is very simple. We cannot control the animals or the weather, We can control our quality of guides, the hospitality of our camps and our effort in scouting and guiding. With that approach we have made a name for ourselves as one of the top trophy outfitters in the state of Arizona. We have a great team of guides made up of top tier men who have a balanced approach to hunting and life. We know you need to enjoy the experience as well as the result. We don't have an age requirement for our guides, but most of them are mid 30s to 50s. We don't have anything against young guides but we prefer our guides to be well versed in hunting experience as well as life experience. Going into 2023 all of our guides have multiple years experience guiding in the same units year after year. This allows us to confidently say we have guides that specialize in units they call home and that helps us deliver the best possible results.
Scouting for 2023 is going to look different this year for may outfitters in the state of Arizona as they adjust to the loss of use of trail cameras. Many of the larger outfitters simply relied on the use of cameras so they could cover the entire state without having to actually scout the country. Fortunately for us at Shadow Valley Outfitters we have never relied on the use to trail cameras to do our scouting. We have and always will continue to cover country with our boots, and spend hours and hours behind the glass looking for the best animals available in each unit for our hunters. We also do a great job of taking scouting pictures and videos so our hunters have expectations that match reality of the hunt.
If you have been considering hiring a guide and outfitter for your elk or antelope hunt in Arizona we would be honored to be considered. We will talk with you and go over any questions or concerns you may have. We also think it is important that you speak with the guide you will be actually hunting with. Its important to know you can spend 7-14 days together hunting with someone who you can enjoy the company of and also have full confidence in helping you reach your hunting goals. If you are considering a outfitter that won't let you speak to your guide, that is because they don't have one yet or they don't know who it will be. If you don't think we are the right fit for you we can offer a few quality small outfitter in the state. We have an excellent working relationship with our peers and are happy to see them succeed as well.
In closing we would love to have the opportunity to help you with your next western hunting experience. We will always work to exceed your expectations and will strive to produce the best possible result for your respective hunt.
Thank you for your time and consideration.
Shadow Valley Outfitters
Posted in: News